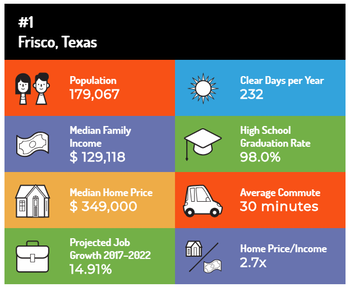 NOTES: Median home price is based on Q1 2018. Home price to income is calculated using median home price and median family income. SOURCES: Synergos Technologies, Realtor.com, Moody's Analytics, NOAA, Ed.gov. Illustrations  by Martin Laksman. For full Best Places to Live methodology, see money.com/BPLmethodology.                                                                                                                                                                                    
Money is the latest national publication to sing the praises of Frisco, listing the North Texas suburb as No. 1 in its 2018 best places to live report. After compiling data on everything from school graduation rates to median home prices, the fast-growing community north of Dallas beat out 582 other communities -- many of them suburbs -- to claim the top spot.  One of the highest grades in the report went to Frisco's education system.  "With more than 70 campuses, the Frisco Independent School District has the highest graduation rate of all the cities and towns Money evaluated this year," the report said. Frisco's graduation rate is 98 percent.
It lists Frisco's population as about 179,000, its median family income as $129,118 and its median home price as $349,000. In explaining its methodology, the finance-focused publication looked only at places with populations of 50,000 or greater. "We eliminated any place that had more than double the national crime risk, less than 85 percent of its state's median household income, or a lack of ethnic diversity. This gave us 583 places," Money said."We put the greatest weight on economic health, public school performance, and local amenities. Housing, cost of living, and diversity were also critical components," it said. The methodology information listed online did not say how the study's authors defined "lack of ethnic diversity." Frisco's population is 75 percent white, according to Frisco.com. 
Money also lauded Frisco for it public-private partnerships -- particularly the Ford Center at The Star. That athletic facility, built as part of a partnership with schools, the city and the Dallas Cowboys, doubles as a place for school football games and a practice field for the NFL team.   The Star also serves as the Cowboys' headquarters.
Frisco, Allen and McKinney routinely show up on "best of" lists. In 2016, career expert website Zippia named Frisco as the most successful city in America.The only other Texas city in Money's top 25 was Flower Mound, which ranked 16th.
Dallas Morning News, September 17, 2018