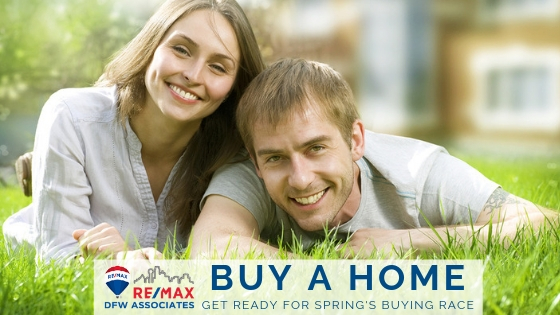 Spring is prime home buying season just about everywhere. Our real estate agents always see an increase in buyers this time of year. People are less busy than they are other times of the year, the weather is pleasant, and sellers know they'll have plenty of interest in their homes. Even with more competition, it's still the best time to get the home you've been dreaming of. Here's how you can set yourself up for home buying success.
Secure financing ahead of time
This includes several steps like viewing your credit report and credit score, planning your budget, and meeting with a lender to get pre-approved. A little prep work here can go a long way to make your offer on a home more attractive. Pre-approval shows sellers you're serious, and there's less chance your financing will fall through. This also means you'll be able to move quickly and make an offer right away when you find the right home for you.


Pick the right agent
Finding an agent that's a good fit for you and knows the area you're hoping to relocate to is important. Their insight can help you make the kind of offer that will get the seller's attention.


Make your first offer great
If there's a lot of competition, you don't want to assume the buyer plans on negotiating. In that situation, they probably won't. Your agent may be able to get a feel for what the seller is looking for. If you can use that information to make a better offer than your competition, then do it. Offer shorter closing time, fewer contingencies, or anything that can make your offer look better than others.
  
Keep the big picture in mind
Your goal is to get into a home that fits your needs. That's important to remember during the negotiating process. Keeping your expectations realistic is essential. In the long run, a few thousand dollars one way or the other won't make much difference, but losing out on a home because you wouldn't negotiate or got too hung up on the details, will.


Be prepared for a bidding war
It's not the optimal situation for buyers, but it is more common during prime buying season. Have a plan for what you are prepared to do in this situation and understand you may end up having to make an offer on a different home. If there are multiple offers, the thought of a bidding war may scare off some buyers, which may work to your advantage. Knowing what you're willing or not willing to do ahead of time prevents emotional and impulsive decision making, and helps you formulate a strategy to improve your chances of winning the home you love. You can offer the seller something different than other buyers with shorter or longer closing times, a bigger down payment, or a cash offer. Your real estate agent can offer plenty of advice.  
Spring really is the best time to start looking for a home for sale in Dallas. Despite increased competition, your chances of finding the right home are excellent with the help of one of our agents. Contact us today to get started.